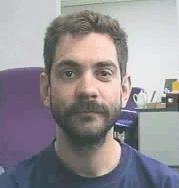 ---
He was first released on August 14th, 1970. No further releases are expected. He started life in the little town of Potchefstroom, 150km from Johannesburg in South Africa. With its university and multitude of schools, it is an academic mecca.
Following his own way, and being supported every step of the way by his parents (for which he's ever so thankfull), he started his early life as a mad scientist. He was always experimenting with anything containing electronic stuff and dabbled in chemistry too. Household appliances had to be hidden lest they be included in an experiment.
High school saw all sorts of things happen (social front excluded). Programming got in the way of other things, and started first on a Texas Instruments TI-99/4A. This machine had 16kB of RAM and implemented one of the first sprite engines ever made. After that came the Apple ][, then the PC. Object Pascal and assembly seemed a good choice, and grew into Delphi later on. C/C++ only came into the picture much later.
After studying at the university of Pretoria for two years, during which he explored the realms of computing, electronics and programming, he joined the army in 1991. The following year he continued his studies at the University of Potchefstroom in computer engineering. Some time around the end of 1994 he started a business together with a friend. It focussed on Internet service provision and network solutions. It was the first company to commercially offer internet access in the North West province.
In 1996 he started work for Wasp International in the GSM arena. There he developed one of the first commercial GSM positioning server systems. This grew into developing an SMS gateway to MTN's network for Wasp's second generation tracking units. All aspects of GSM communication fascinate him.
He had actively been coding in Delphi, but had interrests in assembly and also C++. He also managed Wasp's extensive intranet based on Cisco routers, Unix boxes and NT Servers.
During 1999 Wasp split into two companies. Almost 90% of the employees started working for the new company called CellPoint Systems. Wasp SA continued in the local SA markets while CellPoint focussed on the international markets where it lead the field in GSM positioning. Since the split, Tiaan managed the System Integration division for CellPoint.
15 October, 2001, just over one month after the September 11th events in New York, the international holding company closed down the South African CellPoint offices due to financial constraints. From the ashes of the CellPoint SA office, a new company emerged that focuses on GSM Telemetry and telematics. Tiaan is currently a director in this company called Truteq Wireless and is in charge of systems integration and SS7 interface development.
All development is done on unix-based platforms and he does all coding in GNU C++. He maintains an accurate time server for the South African Internet and hosts the ZA Time Server pages. He also has a keen interrest in Network Security and has built custom firewall solutions for Wasp/CellPoint, TruTeq Wireless and a host of other companies.
In March 2000 he got married to Susan, a woman who knows how to work with TeX, but who is also the most caring, intelligent and intellectually stimulating person he has ever known. Together they adopted a kid which they both dearly love. Tiaan's hobbies include: dabbling in home electronics projects, reading (sci-fi), watching really good movies, photography and spending time with Susan, the other part of his life.
Here's a map of countries I've been to:


visited 23 states (10.2%)

Get your Visited Countries Map.
---
E-mail comments to

---